Oh Be A Fine Girl, Kiss Me! Celestial bodies in contemporary jewellery
Sharon Fitness, Akiko Kurihara, Gigi Mariani, Alessandra Mancini, Yoshie Nishikawa, Gabriele Scotti, Hongjie Yang
curated by Valentina Romen and Annalisa Rosso
opening Wednesday April 4th from 6 to 9 pm
exhibition from Thursday April 5th to Friday 13th 2018, from 12 to 8 pm
Spazio Sanfermosette
via San Fermo 7, Brera – Milan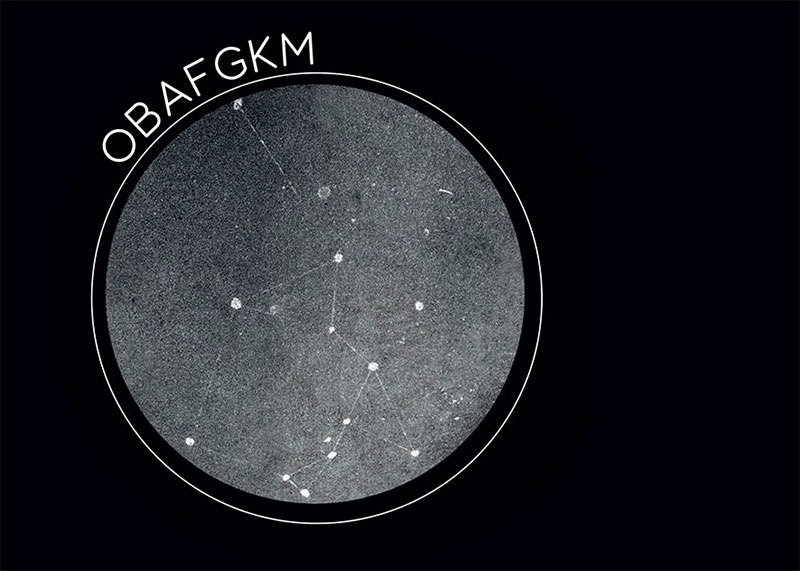 The Harvard Spectral Classification Scheme, the modern stellar spectral classifications scheme, was created at the beginning of the last century. The classification sequence groups the celestial bodies in a series of capital letters (O, B, A, F, G, K, M) and in order of decreasing temperatures, from the hottest to the coolest. To remember this scheme scientists suggested a mnemonic phrase "Oh Be A Fine Girl, Kiss Me!"
Celestial bodies have always been an object of observation and inspiration for mystics, scientists, travellers, artists and poets. They can be nearby and familiar, or mysterious, totally unknown. Ideally, they generate a symbolic connection between the individual and everything that is, often full of completely personal meanings. For this reason they are collected, exposed, adored and interpreted.
By activating a short-circuit between distances – infinitely distant or drawn close to the body – eight creative minds from different countries and disciplines questioned themselves on the celestial matter. Contemporary jewellery but also painting, photography, design and writing: free, ironic, experimental approaches. From orbital balance of attraction and repulsion, to meteors raining down on earth, a reflection on the concept of preciousness of the sidereal elements arriving on earth, with which the curators continue an investigation that reached its third edition, dedicated to the most current expressions of jewellery of research.
Sharon Fitness (New Zealand), jeweller
"I believe in changing the world, one brooch at a time", she says. After much trial and experimentation with silicone and found materials with hidden extra-terrestrial meanings, Fitness discovered the means to find and capture meteorites and asteroids from space.
Akiko Kurihara (Sapporo), jeweller
Minimalist jewellery with a humorous twist and a scientific concept inspired by casual discoveries. The necklace in the show reflects the ration of the size and the distance between the earth and the moon: 12.756km : 3.476km : 384.400km = 11mm : 3mm : 331,5mm or 15mm : 4mm : 452 mm
Gigi Mariani (Modena), jeweller
"Constellations like points, signs, united by imaginary lines that we trace, creating a sort of mapping in the darkness of the sky. Open roads on which it is easy to move along but also to get lost".
Alessandra Mancini (Milan), artist
A game of desecration and transgression that focuses on well-known elements, putting them on stage. In her paintings common objects are extracted and taken out of context, mixing low and high meanings in an irreverent way.
Yoshie Nishikawa (Sapporo), photographer
The artist is pursuing the invisible. The object reproduced in the photograph is not important in itself, but requires a meditative gesture of contemplation and observation of time and soul.
Gabriele Scotti (Milan), director, filmmaker, author of texts for theatre and film
In his thoughts: a shooting star that stands for its right of self-determination, but also the ramshackle dreams of a varied unit seeking solutions in the signs in the sky.
Hongjie Yang (Eindhoven), designer
"The loss of an untouched natural world will force us to manage our surrounding as an artificial environment". With the unique quality of plasma metal spray, nature is preserved and new forms of neutral aesthetics will represent a world in which humanity and nature have become inseparable.