LOVE•&•HATEdiscordance in contemporary jewellery
Monika Brugger, Federico Floriani, Nadine Kuffner, Brigitte Niedermair, Gabi Veit
curated by Valentina Romen and Annalisa Rosso
opening Tuesday November 29th 2016, from 6 to 9 pm
exhibition from November 30th to December 5th 2016, from 12 to 8 pm
Spazio Sanfermosette
via San Fermo 7, Brera – Milan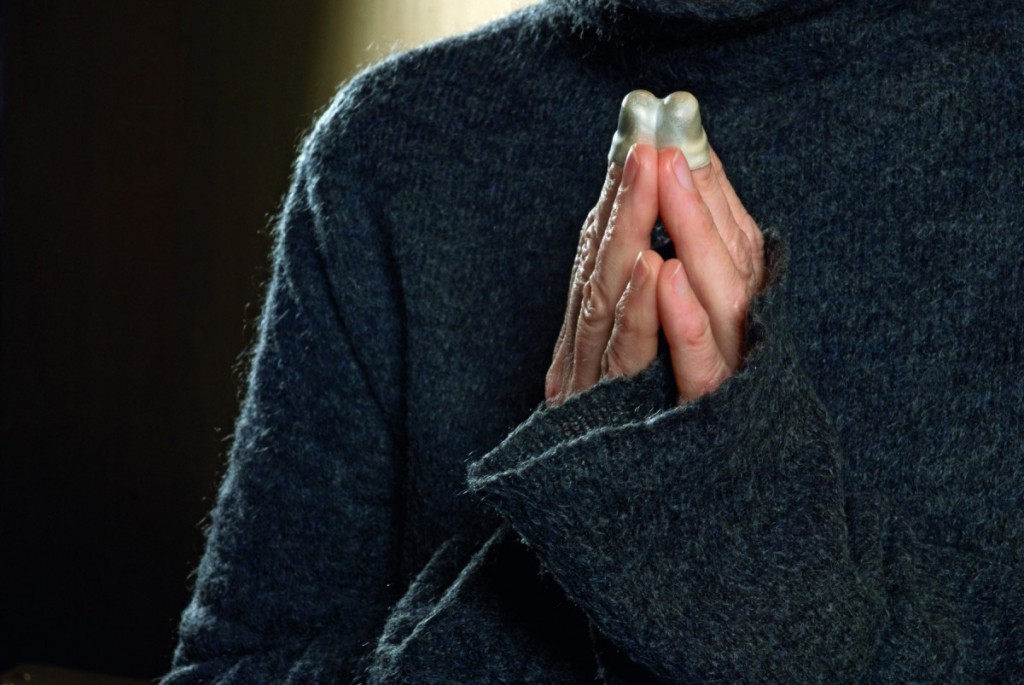 Monika Brugger, Für Dürer, 2008, object for the body
LOVE•&•HATE discordance in contemporary jewelry
There is a thin line between love and hate.
Science proves how these two feelings activate the same nervous circuits of our brain, though hate keeps traces of judgment and rationality. Emotions that appear to be polar opposites, in reality are intimately connected in the human brain. This could explain why both can lead to similar acts of extreme behaviour – evil or heroic – often irrational.
The exhibition project LOVE•&•HATE follows the curiosity for a match or a collision of different materials, discordant forms and ventured combinations. Attraction or repulsion can be behind a specific attention to a formal research, able to find an unexpected balance among elements sometimes very dissimilar, to define new aesthetics, and become a crossroad of strong emotions.

Different generations and languages coexist in this group show, in risky and inspiring harmony. The curators Valentina Romen and Annalisa Rosso continue their survey on contemporary jewellery with the aim to find new dimensions and occasions for discussion around a subject of modernity and discovery.
The artists in the show:
Monika Brugger, jeweller,
pushes the borders of creativity towards a territory of destruction, balanced by an immense potential of grace and reconstruction. In her work, linguistic concepts and traditions interact with sartorial work, opening to indefinite images. An intimate work, delicate and at the same time insolently ironic. http://www.monikabrugger.eu/
Federico Floriani, designer.
Attracted by non-conventional objects and anthropomorphic forms, he developed a particular capacity to transform visionary intuitions into coherent projects, with his decorative sign and a pronounced sensibility for imagery. For the occasion he plunges into the theme of jewellery for the very first time overcoming a personal aversion. https://www.federicofloriani.com/
Nadine Kuffner, jeweller.
An operation of disorientation. The guidelines associated to jewellery – materials, dimensions, weight, artisan knowledge – are called in question. Like the idea of preciousness, shaken up by the interaction and the use of tin, the liquid metal freed to take shape, barely circumscribed by the artist's hand. http://www.nadinekuffner.com/
Brigitte Niedermair, photographer.
A constant emotional power undergoes her conceptual photographs, where sublime and cruel, enigma and poetry, subtle eroticism and pitiless reality cohabit. Various influences for an accurate approach towards extreme territories, moving naturally and transforming our reality in minimalist expressions, almost aseptic, suspended and silent.
http://www.brigittemarchniedermair.com/
Gabi Veit, jeweller.
The forms of nature are her source of inspiration. In the exhibition, a selection of works dedicated to pruning, where the possibility of growth is the natural consequence of the right cut. "Growth is the process of constructive destruction." She builds and takes away the superfluous in her jewellery realized with the technique of the lost-wax casting, where a vulnerable material like wax is transformed into solid metal. http://www.gabiveit.it/